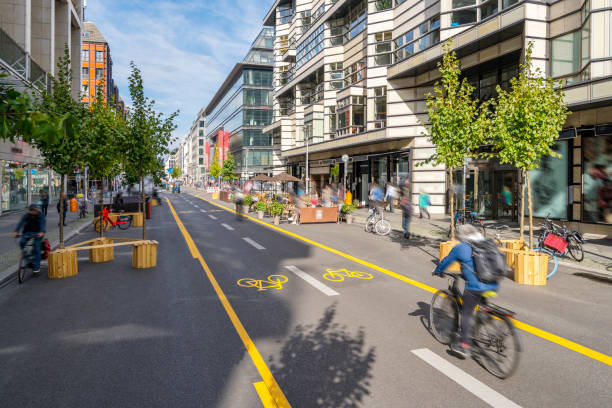 Increase the safety of your roads where it counts the most!
Road users who are on bikes or on foot are the most at risk. When accidents occur, they are usually the ones to suffer severe injury or death. Most accidents occur on the road or on the sidewalk. With more big city dwellers choosing eco-friendly modes of transportation, cycle lanes are becoming busier year-round, providing them easy access to their destination.
 It is, therefore, critical for municipalities to install a wide range of protective safety measures such as bike lane delineators with reflective sheeting to save lives and reduce injuries. 
Flexible and designed to last
Designed to match the layout of any urban, rural area or city streets, each bicycle lane post provides easy access and is guaranteed to integrate seamlessly into the landscape. Our flexible bike lane delineators posts are:
 Made of durable anti-corrosion steel 

capable of

resisting 1500 impacts
Easy to install and made using non-fading vinyl, we guarantee a superior quality product that will last for years because of its construction materials and installation. This is the right solution to meet the challenges of road traffic safety, but also to protect cyclists on public roads.
As active members of our community, we take serious measures to leave a positive influence on our society. This is why all our types of technologies are eco-friendly and are the perfect products to withstand years of harsh weather and resist impacts.
Why trust Kalitec for your bike lane delineator needs
?
For more than 30 years, Kalitec has been a pioneer in the road safety and signage market. We provide you with a 10-year warranty on our bike lane delineators and assist you throughout each stage of your project. 
From conception to design and installation, Kalitec is there to advise you and provide unparalleled after-market services. Our mission is to reduce collisions and help to secure our roads. We produce delineators to create secure cycle lanes for city and town cyclists as well as other people walking on the curb. Please feel free to reach out to us for any and all of your bike lane delineator and sign needs.