KalifixTM: Sign Post Support

A one-of-a-kind signage support!
Materials can be reused after impact
How does it work?
Equipped with two flexible steel rods, the pin connecting the post to its anchor is designed to breakaway when the post is damaged and allows it to be temporarily straightened following a low-speed impact.
Durable structures
KalifixTM is a secure signage support at the heart of Kalitec technology designed to protect structures and facilitate their return to service after a collision.
Easy setup
Installation or replacement of the damaged pin is done quickly by one person in all types of soil.
Eco-conscious and economical
The high-performance and corrosion-resistant materials increase its lifespan in addition to being 90% reusable after an impact and 100% recyclable.
Guaranteed durability
The 25-year limited warranty applies to the 3 elements of the KalifixTM system including the post, the anchor and the pin.
Improved safety
Made in Quebec and L6X approved by the Quebec Ministry of Transport, the structure yielding under impact protects road users better than non-weakened systems.
Over 300,000 posts installed in Canada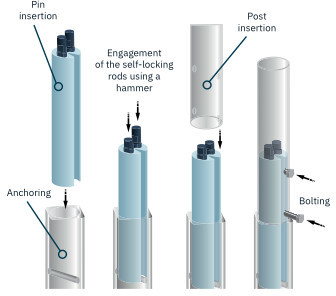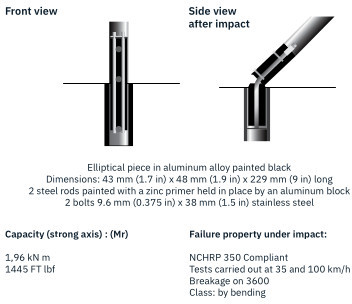 Improve the safety of your roads!