A unique signature for your city
Kalitec panels enhance the identity of your municipality with aesthetic street names and unparalleled durability.
Enhanced identity
Kalitec street name signs are both aesthetic and unparalleled in durability.
Robust
Manufactured from premium materials and paint to increase lifespan.
Aesthetic design
Aesthetic signage that gives a unique character and blends in perfectly with the environment.
Easy setup
Quick installation on our poles or on existing structures. The KalifixTM bracket is the only one that can be installed on numbered roads.
Customizable shape
Graphic design free of charge offering different visual elements, supports, colors and dimensions to choose from.
Decorative cutout
The die-cut plate makes it possible to create a personalized concept at an affordable cost.
Cutout on decorative support
The decorative bracket adds an extra aesthetic touch.
Heritage box
Boxed panels have a rich, classic style and give a more voluminous appearance.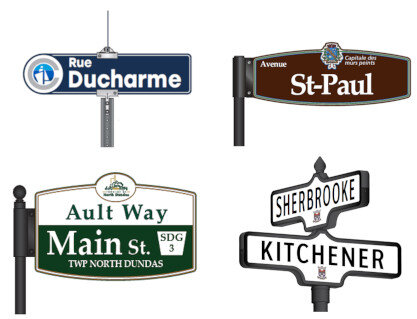 Many colours available to choose from!
Our anti-UV electrostatic paint is specially designed for the exterior.
Enhance the beauty of your municipality with customized street name signs!