Informing without distorting the surrounding area
Kalitec interpretive signs are perfect for parks, tourist circuits, identification of historic sites or heritage houses.
Documentation to download
A complement to the landscape
Designed to enhance their environment, Kalitec interpretation panels enrich your outdoor sites by informing visitors without compromising the beauty of the landscape.
Robust
Anti-theft assembly and protected by our Print ArmorTM technology against vandalism, scratches, peeling and fading from UV rays with a 10-year limited warranty.
Economical, eco-conscious and sustainable
Structure made of recyclable metal painted with polyester powdered which gives it a lifespan of more than 20 years.
Easy setup
Quick and easy installation in the ground or pavement with a fixing at the back for a finish without visible fasteners.
Aesthetic and customizable design
Different design elements, supports, colors and sizes are available to choose from to blend in well with the environment.
Three categories of signs to meet your needs.
Standard interpretive signs
Rectangular in shape, with a 15 mm folded border for an unparalleled appearance.
Decorative cutouts
Manufactured from top quality aluminum alloy and custom-made into the shape of your choice.
Custom structures
Steles, banners, columns, etc., we design custom designs according to your needs.
All our panels are equipped with reinforcement bars welded at the rear for more sturdiness and to cover up the hardware.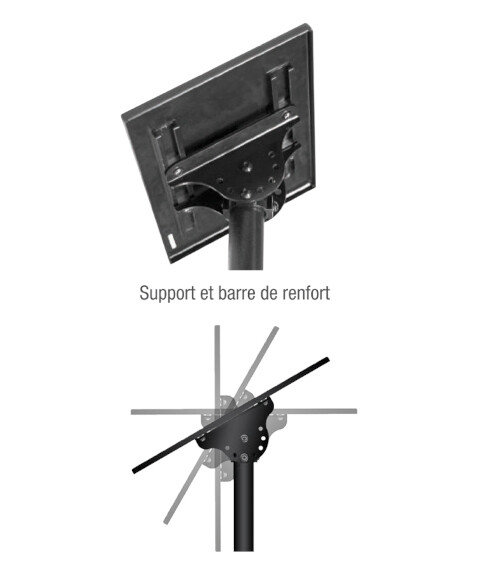 More Information
We offer a full range of graphic design services to bring your ideas to life.
What are good interpretive signs?
How do you effectively convey a message to your target audience? An effective interpretive sign must have four characteristics: it must be entertaining, relevant, well-organized and written around a specific theme. Not only are interpretive signs informative, but they are also inspirational. The trick is to pique visitors' interest so that they want to learn more.
Here are some general ideas for grabbing people's attention:
Use interactive exhibits or multi-sensory activities to engage them through the five senses.
Encourage the development of questions and information requests.
Promote debate and action.
Be aware of and understand the group's expectations and needs.
Why use Interpretive Signage ?
Interpretive signage offers a way to communicate with those who visit your place. It empowers you to promote the mission of your organization/entity and inform the public about new developments. All of this can help your entity gain public support and promote fundraising.
Furthermore, interpretive signs can assist teachers and self-guided groups in understanding the significance of the area and its resources. A good interpretive panel generates discussion, stimulates new ideas, and encourages learners to look for other things to learn.
Designing Interpretive Signs
At Kalitec, our experience in designing interpretive signage is unparalleled in Canada. To learn more about our attractive and durable interpretive panels, learn more about our Print ArmorTM exclusive coating or contact us today and we will help you better understand and appreciate our expertise.
Different Types of Signage
Interpretive signs can be made out of a variety of materials and styles. The most basic signs can be made of paper or cardboard that has been laminated to make it waterproof (HPL). More durable materials, such as wood, metal, or plastic, are generally more expensive and difficult to produce. The most important factor to consider is the panel's topic and purpose. This factor influences whether you use a temporary panel, a permanent panel, or both. At Kalitec, we build exclusively metal interpretive signs for applications where maximum durability is needed.
Temporary signs
Temporary signs are made up of a rigid frame and a removable and interchangeable front panel. Temporary panels can help you interpret seasonal events like spring blooms. Temporary signs are often the best option for good interpretive signage because they are dynamic and responsive to the needs of the visitor. Kalitec manufactures these panels from a metal frame and a transparent and durable front panel.
Permanent signs
Permanent signs are designed to last longer and can be used to illustrate particular features or areas of an environment or space that are permanent and attract visitors throughout the year. Our Print ArmorTM antigraffiti and UV resistant coated signs will last for up to 15 years, which is double the longevity of standard HPL signs.
The final choice of signage type will also be influenced by the available budget, the availability of technological equipment for design and printing, site materials, and the condition of your environment.
Why Choose Kalitec Interpretive Signs?
At Kalitec, we are aware of the importance of good signage, in terms of content, finish and presentation. We work with the best materials, including our Print ArmorTM antigraffiti and UV resistant coating, ensuring maximum durability of our signs. Specialized in the design and creation of signage, we offer personalized information panels that meet your expectations.
We are fully aware that each project is different and has specific needs that are adapted to each environment and space. However, we know that our clients often need advice on the cost and type of signage for their projects. At Kalitec, we have the experience to help you in these early stages of developing your signage project. You can contact us by phone, email or by using our contact form. The more information you give us, the easier it will be for us to help you.