A radar with proven efficiency
Reduces risk of death for cyclists
Reduces risk of death for pedestrians
Speeding is one of the leading causes of road accidents. According to one study, reducing speed by 5 km/h would allow to reduce the number of road accidents by 15% each year**.
Sources : *McGill University – **SAAQ Québec
Documentation to download
The most high-performance radar
The Kalitec radar speed sign is the most performing one in its category and concretely contributes to reducind speed from the first days of implementation.
Over 45,000 units deployed in the world
Over 2,500 units deployed in Canada
CERTIFIED QUALITY
Assembled in a ISO 9001 certified manufacturing plant with a very low failure rate
EXTENDED WARRANTY
Our Premium range is protected by a 3-year warranty on parts and labour
EASY AND QUICK INSTALLATION
Weighs less than 10kg without the batteries, which makes moving and installing much easier
GUARANTEED DURABILITY
IP 54 guaranteed robust, water and dust resistant casing
Unmatched light intensity
Unmatched light intensity
Up to 10,000 cd/m2, based on ambient light.
Optimal Display Angle: 55°
Visible from near or far.
Curved Anti-Glare Surface
Visible even on sunny days.
ISO 9001 Certified
Ensures a very low failure rate.
Extended Warranty
3 years on our Premium line products.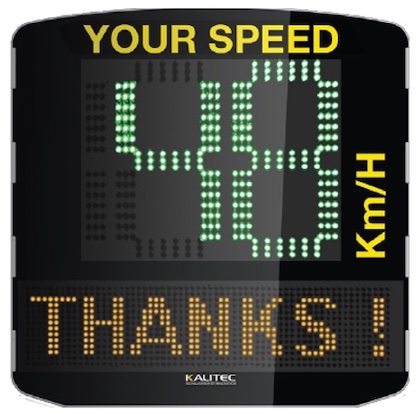 More information
Radar speed signs are traffic control devices strategically placed to encourage speed reduction by notifying drivers of their current speed. Find out more about our solution.
Traffic-calming is a priority, especially in school zones, downtown, parks, or residential areas with children. With our custom, solar-powered smart signage, it's possible to help slow cars and prevent crashes, decrease the number of traffic accidents and save lives.
Kalitec has more than 1 500 units installed for 400 clients across Canada, and 16,000+ units currently serving satisfied customers around the world. Our mission is to make the roads safer with the use of speed display boards that encourages drivers to be more cautious and aware of their speed.
We are proud to help towns make their roads safer with the help of our speed display signs. Discover everything there is to know about our smart traffic speed boards and why they're the perfect solution for traffic speed management.
A Better Traffic Speed Management for Improved Road Safety
Besides being a great solution for traffic speed management, our speed detection signs beautify downtown areas, streets and parks. We design our signs with the best materials, color palettes, sizes, and shapes for their location.
Furthermore, our custom radar speed displays are also conceived according to the vision zero principles; we believe that:
All traffic deaths are preventable
Human failing is crucial for the integration of speed-related accident prevention solutions
Saving lives shouldn't be expensive
Find out why our smart traffic-calming devices are the perfect solution to help slow down speeding drivers in target areas of your city.
Our Speed Sign With Radar
Kalitec radar speed signs clock and log traffic speeds using state-of-the-art radar technology.
Individual vehicle speeds are displayed in yellow or red, depending on how far over the speed limit the driver is.
Speed reading can be accompanied by a written message to aid in longer-term traffic-calming.
The unit records key data for both travel directions, including average and peak speeds, and generates statistical charts and reports.
Easy to install, easy to relocate as necessary. Total weight: 10 kg (22 lb) plus power battery.
The Kalitec Difference
Kalitec has delivered high-quality, durable radar signs worth their prices across Canada since 1988. With over 30 years of experience creating innovative custom signs, Kalitec is a major player in the signalization market. We offer innovative design and custom smart signage solutions to cities looking to improve road and traffic safety.
Discover all the advantages of choosing Kalitec to install radar feedback signs in your town.
High-Intensity Radar Speed Sign
Our radar speed signs with a camera go up to 10,000 cd/m2, based on ambient light.
Optimal Display Angle: 55°
We chose the best angle to offer drivers high visibility from close up and far away.
Curved Anti-Glare Surface
Easy to see, even on sunny days.
ISO 9001 Certified Radar Speed Sign
For maximum performance and minimal downtime.
Extended Warranty
Our extended warranty offers our customers three years on all our Premium line products, such as our speed detection sign.
Other Information on Our Radar Speed Sign
Kalitec does not provide standard signage – we offer custom designs and tailor-made innovative signalization solutions that meet your city's unique needs. Our dynamic speed display sign with radar meets leading international standards such as FCC, IC, and E12966 and can be:
Electric or solar-powered.
USB or wireless (Bluetooth, mobile) connection.
Our mission is to deliver state-of-the-art products that are designed to slow down drivers and let them be more aware of their speed. Our solutions will enhance the beauty of your town while also making it safer for traffic and pedestrians.
Why Choose Kalitec for Your Smart Signage Project?
Kalitec is a company that specializes in custom signalization. As well as our radar speed sign, we offer a wide variety of intelligent signage options. If you are looking for:
Custom wayfinding, welcome, and tourism signs
Flexible delineators and markers
Bollards and chicanes
Kalitec is the company you should contact. We are proud to offer our clients this great range of custom signage solutions for safer streets.
We also provide professional consulting services to help you design and build your project. Our experienced consultants will accompany you from start to finish while giving you the advice and support you need. If you have a signalization project, do not hesitate to contact us.
A Turnkey Service
Kalitec provides a turnkey service to its clients. We evaluate, conceive and advise you on the best solutions for your project. More than the integration of your smart signage, Kalitec can help you:
Select the appropriate size, shape, height, colors, and visuals for your signs
Find the best materials and manufacturing methods
Analyze your cost and plan a solid budget for your project
Ensure compliance
Determine the structural strength
Estimate the lifetime and durability of your project
We offer impeccable results by using rigorous work methods. Finally, we also provide unmatched after-sale customer service. We aim to fully satisfy our clients, even at the risk of restarting a project.
Top-Quality Radar Speed Signs
Our pride is to provide towns with durable driver feedback signs that use state-of-the-art smart signage technologies. We focus on efficiency and innovative solutions when we design your custom signalization. No detail is overlooked, however small it might be. We pride ourselves on providing our customers with road and traffic management solutions tailored to their unique needs.
If you have any questions about our radar speed sign, do not hesitate to contact us. An experienced member of Kalitec's team will gladly answer all of your questions and clear your doubts.