Steel & Aluminum Safety Bollards

Restricting access to prohibited vehicles
Accidents with vulnerable users mainly occur in an urban environment
at pedestrian intersections
Studies show that drivers lack consideration for cyclists and pedestrians at intersections because they pay more attention what is more dangerous for them, i.e. vehicles, given their greater mass compared to a vulnerable user.
Source : SAAQ
Documentation to download
Protecting vulnerable users
Kalitec rigid bollards prevent vehicle access in specific areas such as bike paths, pedestrian areas and more.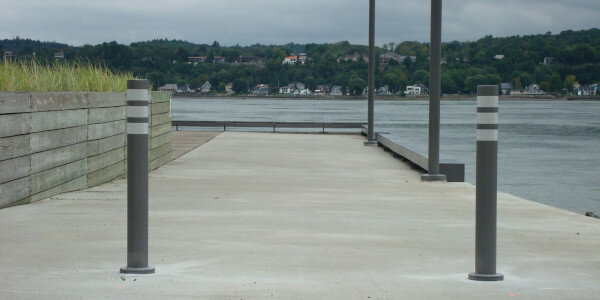 Choice of shapes, sizes and colors on request
Removable bollards
Secures access to paths while allowing certain vehicles to pass.
Quick installation and can be locked with a simple padlock.
Rigid bollards
Offered in diameters ranging from 50 to 200mm.
Easy to install in all situations with the possibility of using KalifixTM technology.
Customized bollards
Customizable to better match their environment.
Made of the best materials to suit all your needs.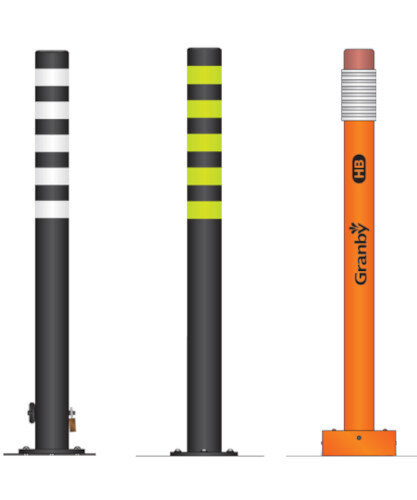 More Information
Are you looking for bollards to clearly separate motor vehicle roads with bike or walking pathways? Kalitec is the right partner for you. We have been designing and creating bollards for various cities for more than 30 years.
We are here to help you with your project and work closely with you. Contact us today and we will take care of your project.
What is the purpose of the bollards?
A bollard is a short post designed and used to redirect traffic from a road or to separate roads from bike and walkways. In the past few years, there has been a significant increase in bike and walkways in various cities.
Kalitec is the best partner to assist you in the design and installation of bollards to create a harmonious separation between motor vehicle roads and bike and walkways.
If you are looking for bollard in Canada, safety bollards and steel bollards in Canada, then Kalitec is the right partner for you.
The different types of bollards
Removable bollards
Removable bollards can be placed in different areas to stop motorists from entering a specific location or simply parking lots. The distance between the flexible bollards however allows pedestrians and bicycle riders to go through. Our bollards are easily installed, and we use a lock at the bottom to secure them and remove them at will.
Fixed bollards
Fixed bollards are available in many sizes from 50 mm (2 inches) to 200 mm (8 inches) in diameter. Our experts will install them at any given setting for added safety and to make it convenient, for people. Fixed bollards can also be chicanes set in the ground, ideal for securing the entrance to a cycle path or a multi-use route.
Custom bollards
Our free design services can help turn your ideas into reality by creating custom bollards that are tailored to the specific measures and specifications required by your city or municipality.
Safety and sustainability
Bollards are primarily designed for traffic-calming and road safety. We design them and manufacture them so pedestrians, bicycle riders and motorists can see them. Their goal is to manage efficiently traffic close to crosswalks and any other pedestrian paths.
They are made to increase safety and decrease injuries and accidents. Moreover, they are made from eco-friendly materials such as hot-dip galvanized steel or 6005 TF extruded aluminum, and they are solar-powered.
The bollard materials used
There are a variety of materials for bollards depending on the needs of your roads:
Cast iron
Ductile iron
Steel
Stainless steel
Concrete
Aluminum
Polyurethane
However, we mainly provide aluminum bollards. Aluminum is corrosion resistant and easy to paint and customize. It is commonly used in attractive modern bollard forms for standalone applications or as security pipe covers.