Guide, inform and welcome
Our various choices of designs allow you to harmoniously match your panels to their environment in order to highlight them without distorting the site.
A thoughtful design
Kalitec wayfinding and directional signs are designed to guide users efficiently while blending perfectly into their environment.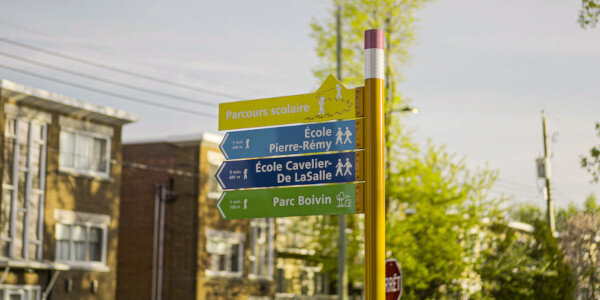 Economical and eco-conscious
Driven piles eliminate the need for a solid concrete base, reducing costs and their environmental impact.
Robust
25-year warranty against perforation due to corrosion.
Easy setup
Quick installation in all types of soil or in concrete thanks to our KalifixTM technology.
Customizable
Choice of different elements, supports and dimensions.
Cut into various custom shapes that take into consideration their use, location as well as visibility and safety standards.
Manufactured from premium aluminum alloy with welded reinforcement bars at the back making them extremely strong.
Pedestrian circuits:
equipped with our
Print ArmorTM
technology which protects the printing surface against premature deterioration due to UV rays and vandalism.

Kalitec offers free design including preliminary shop drawings and budget evaluation, as well as consulting services free of charge to assist you in carrying out your signage project.
Help with technical specifications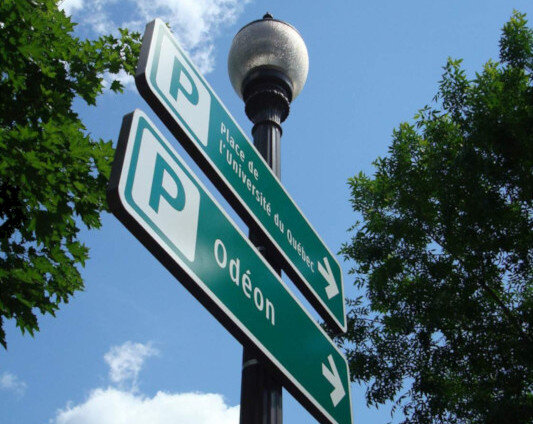 More informations
At Kalitec, we are experts in designing wayfinding signs and directional signage.
What types of signs are we specialists in?
We are specialists in designing and creating custom and effective signs. Our mission at Kalitec is to offer you a wide range of wayfinding signage for your city or your neighborhood. We pride ourselves in making streets safer and in offering simple and precise directions to drivers as well as pedestrians thanks to our identification signs and informational signs.
Are you looking for a specific type of sign that suits specific needs for your park, area near a school or simply your street? Contact us today and we will share our sign solutions and expertise with you to ensure the final product matches your expectations. We are here to assist you in making your neighborhood safer and easier to navigate through.
Our tailor-made signage objectives
At Kalitec, we aim to make signs that are tailor-made to your needs. We understand society and rules keep evolving, and so do our processes. Our primary objective is your safety aligned with your satisfaction. That's why we work tirelessly through innovation to make sure we deliver signs that fit your demands. We have many signs such as:
Wayfinding signage
Directional Signs
Warning signs
Safety signs
Regulatory Signs
Custom signs
Signals
Contact us for information on traffic signs
Our work has been recognized as innovative, outstanding and appropriate by many of our clients over the years. We are here to work closely with you to provide different types of wayfinding signs. Nothing is more important to us than your satisfaction.
Do not hesitate to contact us now, we will be happy to help you.
WE RECOMMEND: Print ArmorTM protection against UV-related discolouration and vandalism.
We offer a full range of graphic design services to bring your ideas to life.
Help visitors navigate your outdoor sites efficiently!